(Please sing or whistle "Oh, Susannah" while you wait for the moose to
wander onto this page. If you don't know the tune, whistle your own.)



Finally they emerged from the brush
for an evening stroll in the mud.

.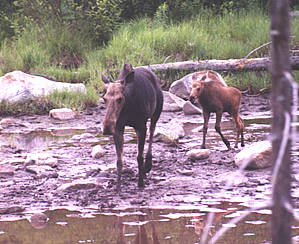 Mom is very thirsty because Denny
is an enthusiastic nurser.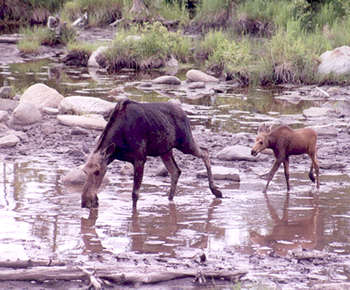 O'Susannah inspects the water.
Denny does almost eveything mom does.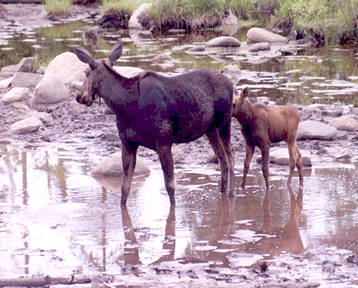 Denny doesn't need to drink the water. There will
be more moose milk after mom tanks up.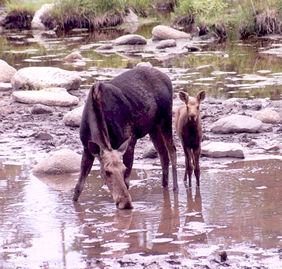 "Do you folks have a problem with that?"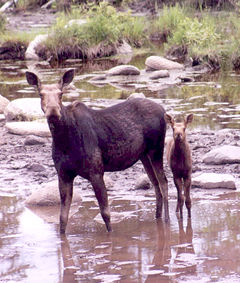 "We both love squishing our hooves in the mud."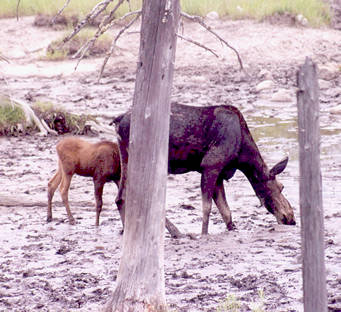 "It's a moose thing, folks. You should try it."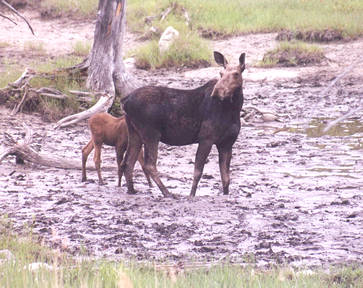 "Let's go, Denny."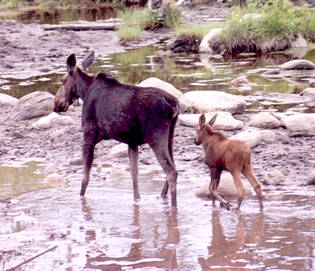 "The bugs are getting to me!"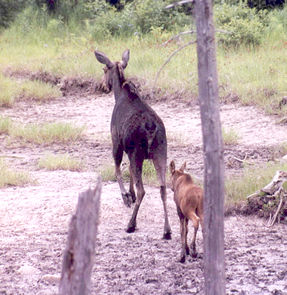 "Perhaps we should go back in the brush for awhile
and wait for the next group of spectators to arrive."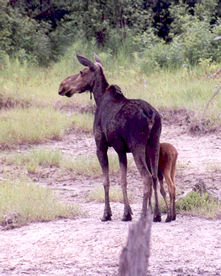 "I think it's nice that they came to see us, mom."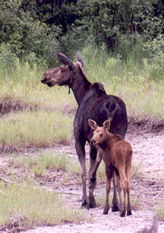 "Good evening, people."
The moose hang-out in Stratton, Maine is by the sand piles and in the mud at the highway department shed just 1/2 mile west of Stratton on Route 16 heading toward Rangeley. As a matter of fact, Route 16 between Stratton and Rangeley is sometimes referred to as "Moose Alley" along with some other popular moose roads in Maine. Many people stop by early in the morning or in the evening to see which moose are on parade. We visited four or five times during our three day stay (June 24-26, 2002) in the area to hike and moose watch. Just as we were about to give up one evening, O'Susannah and Denny appeared.
We also saw a couple of male moose in the vicinity. Check out their growing antlers by clicking here.