I wish I had great new news. Dolly and Molly continue to elude me. One or the other has been seen up close in the neighborhood. A big moose visited next door on Mother's Day. By now, June 22nd, new moose have probably been born. I've seen this year's fawn in our yard. Her unspotted, young red cousins are surely back in the woods.

Some lucky people have had moose encounters around and about Underhill and Mount Mansfield. Last fall, Bob Tierney took photos of a bull moose who took a quick stroll through his yard in Underhill Center. This could be Dolly's mate and Molly's father. The vicinity is right and he appears to be an appropriate age. We'll never know for certain. In the absence of proof to the contrary, I will pronounce him a member of the Mansfield Moose family.

.
| | |
| --- | --- |
| At the beginning of the winter, Rich and Sheri Larsen were skiing near Mt. Mansfield and disturbed this moose who had apparently been sitting in the snow. Another skier, Jim Lavoie, followed them with a camera and got this shot. None of these folks could tell me whether this is a male or female. They all said it was a BIG moose. | |
There are always moose sightings on Pleasant Valley Road heading north towards Cambridge. This proud mom and her twins had their photo taken by Carla Hochschild several years ago.

Here's my recently completed rendition of Molly.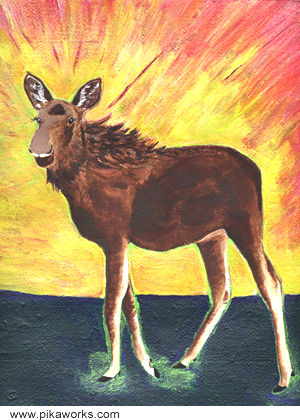 There have been reports in the local paper of moose seen in Jericho and Underhill. Most looked like yearlings just kicked out on their own and trying to find a place for themselves in the world. Keep your eyes opened wide for moose on the roads at night.