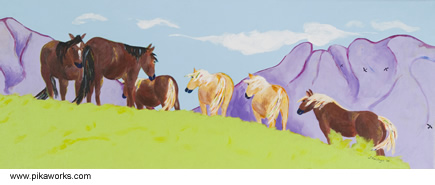 No greeting.
Words on Back: High in the Italian alps horses loll in the sun and roam the grassy hills. Giorgio, Tommaso, Lilliana, Rafaella, Pia and Rico are the names Iíve given them.
This design is not available as a card but the original painting is available.
About:The original 14x36 inch acrylic painting is available for $350.
To Order: Check next to the product(s) you would like to order and click Add Items to Basket. You may indicate quantities and add/remove items by viewing your basket now or at check out.