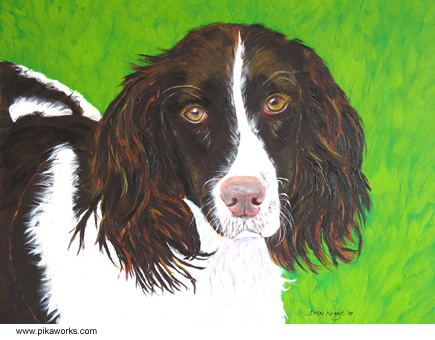 No greeting.
Words on Back: Ollie may look at us with solemn eyes, but he is very affectionate and full of life. He love, loves, loves to run through fields chasing birds and seagulls on the beach. He really enjoys swimming in all temperatures and wags his tail so hard at the sight of water, one day it might just come off. The worst thing you could ever do to him is to ignore him. His favorite part of the day is when his owners arrive home. He runs around in circles jumping in the air and chasing his tail.
This design is not available as a card but is available as a print.
About Prints: Unframed print is attached to foam board with a tag on back for quick hanging. Print may be easily detached from backing and framed as you wish ($30).
To Order: Check next to the product(s) you would like to order and click Add Items to Basket. You may indicate quantities and add/remove items by viewing your basket now or at check out.