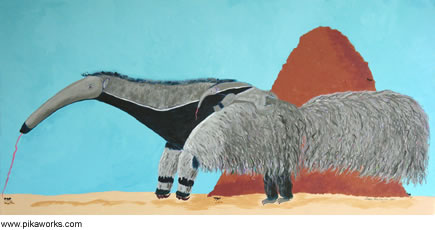 No greeting.
Words on Back: Giant anteaters live in South America and love to eat termites as well as ants and other such things. The textures of their fur, their long tongues and the camouflaging of their young intrigue me.
This design is not available as a card but the original painting is available as are prints.
About Prints: Unframed print is attached to foam board with a tag on back for quick hanging. Print may be easily detached from backing and framed as you wish ($30). The original 11x22 inch acrylic painting is available for $350.
To Order: Check next to the product(s) you would like to order and click Add Items to Basket. You may indicate quantities and add/remove items by viewing your basket now or at check out.