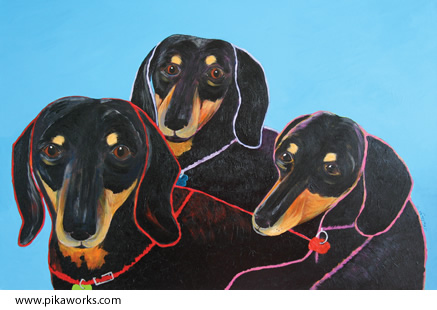 No greeting.
Words on Back: From the sound of their names, I thought they were southern puppies. But no. Velvet (pink) is the eccentric one; the "big mama." She was named because she feels like velvet. Belle (red) barks, bites and kisses in that order! She was named for hurricane Belle. Dixie (purple) is Belle's littermate. She is dominant and aims to please; the little circus dog. She was named after the Dixie Chicks.
This design is not available as a card but is available as a print.
About Prints: Unframed print is attached to foam board with a tag on back for quick hanging. Print may be easily detached from backing and framed as you wish ($30).
To Order: Check next to the product(s) you would like to order and click Add Items to Basket. You may indicate quantities and add/remove items by viewing your basket now or at check out.