.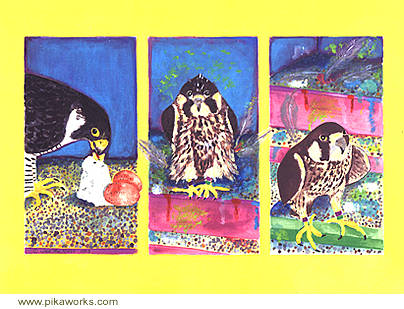 No greeting.
Words on Back: Mae hatched Freddy J. Falcon on May 6, 2003. A month later he was about ready to roll. Then he streamlined from Frazzle Feathered Freddy to the Fearless Fledgling Falcon Flyer in just three days. Mae has been hatching baby peregrine falcons under the watchful eye of The Raptor Resource Project since 1990 (www.raptorresource.org).
This design is available as a print.
About Prints: Unframed print is attached to foam board with a tag on back for quick hanging ($30). Print may be easily detached from back and framed as you wish.
To Order: Check next to the product(s) you would like to order and click Add Items to Basket. You may indicate quantities and add/remove items by viewing your basket now or at check out.