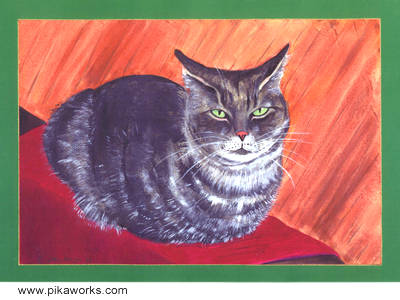 No greeting.
Words on Back: Pixel has helped at Pika Works since he was a kitten. He guards the cards against mouse invasions, pushes pencils off the desk, and makes everyone laugh. When he gets chased out of the office, he likes to perch on the upstairs railing.
About Prints: Unframed print is attached to foam board with a tag on back for quick hanging ($30). Print may be easily detached from backing and framed as you wih.
To Order: Check next to the product(s) you would like to order and click Add Items to Basket. You may indicate quantities and add/remove items by viewing your basket now or at check out.