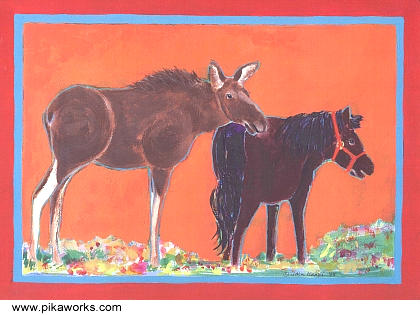 No greeting.
Words on Back: Mary the yearling moose stopped by the barn where Little Bit the pony lives in Groton, Vermont in the summer of 2004. The two became great pals and Mary stayed until late in the fall.
See the photo story about Mary and Little Bit elsewhere on this website.
This design is available as a print.
About Prints: Unframed print is attached to foam board with tag on back for easy hanging. This print may be detached from backing and framed as you wish ($30).
To Order: Check next to the product(s) you would like to order and click Add Items to Basket. You may indicate quantities and add/remove items by viewing your basket now or at check out.