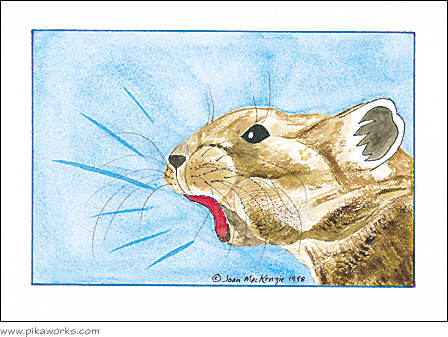 Greeting: Pika Pete is squawking. He knows not what to do. He likes you very much and he hasn't heard from y
Words on Back: Pikas are furry little creatures who live in rock piles high in the mountains of western North America. They are related to rabbits and are about the size of large hamsters. Pikas have distinctive rounded ears, luxurious whiskers and no visible tails. They say eenncck!
Pika Pete was discovered in the Wind River Range of Wyoming. He was the original inspiration for Pika Works.
When hawks or eagles fly overhead, a pika cries out a loud Eeenncck! Eeenncck! to warn other pikas and marmot friends. When the danger is a weasel, a pika is silent lest the weasel chase the pika right into the pika's rock home.
Mouse Pads: Pete will squawk at your computer for you. View mouse pads page.
To Order: Check next to the product(s) you would like to order and click Add Items to Basket. You may indicate quantities and add/remove items by viewing your basket now or at check out.