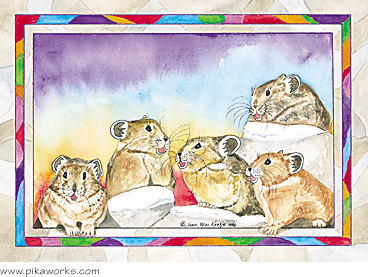 Greeting 1: The pikas got together to sing you Happy Birthday!
Greeting 2: It is that time of year to gather for some cheer, to wish each other well and welcome the New Year!
Words on Back: Pikas are furry little creatures who live in rock piles high in the mountains of western North America. They are related to rabbits and are about the size of large hamsters. Pikas have distinctive rounded ears, luxurious whiskers and no visible tails. They say eeenncck!
All the Pika Works Founders are here to greet you -- Buddy, Pika Pete, Esmerelda, Gramps and Wee Willy. Joan imagines they get together to sing in celebration.
Pikas live by themselves in territories adjacent to other pikas. They watch out for each other and scream out in warning if danger is near.
To Order: Check next to the product(s) you would like to order and click Add Items to Basket. You may indicate quantities and add/remove items by viewing your basket now or at check out.