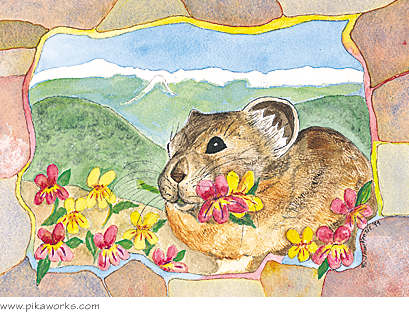 Greeting: Happy Birthday!
Words on Back: Pikas are hearty little mammals who live in rock piles high in the mountains of western North America. They have relatives in Asia too. Pikas live in some of the most beautiful and rugged places on earth. Mountain views, wildflowers and alpine wildlife are what you expect to see there.
Farley lives near the ghost town of Bodie, California. Yellow Alpine Monkeyflowers and Dwarf Purple Monkeyflowers are among his favorite blossoms. They donít bloom every year. They skip years when water is scarce.
To Order: Check next to the product(s) you would like to order and click Add Items to Basket. You may indicate quantities and add/remove items by viewing your basket now or at check out.