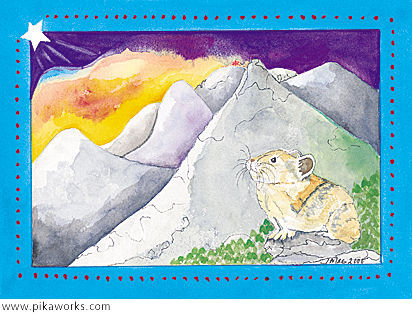 Greeting: Wish upon a star and then make it happen.
Words on Back: Pikas are hearty little mammals who live in rock piles high in the mountains of western North America. They have relatives in Asia too. Pikas live in some of the most beautiful and rugged places on earth. Mountain views, wildflowers and alpine wildlife are what you expect to see.
This little pika seemed to have more on her mind than harvesting hay. She was curious and thinking beyond the moment.
To Order: Check next to the product(s) you would like to order and click Add Items to Basket. You may indicate quantities and add/remove items by viewing your basket now or at check out.