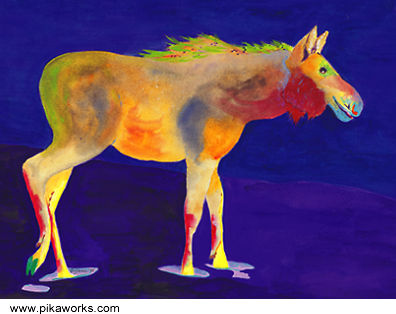 No greeting.
Words on Back: Pika Works is named after the delightful but obscure little mammal, the pika, who lives high in the mountains of western North America. The artist also paints moose, cats and other creatures. Big or small, she loves them all.
Moose, like pikas, lack bright colors in their fur. That is why the artist chose to splash young Molly with paint and transform her into a magical moose on a moonlit night.
About Prints:Unframed print is attached to foam board with tag on back for easy hanging. This print may be detached from backing and framed as you wish ($30).
To Order: Check next to the product(s) you would like to order and click Add Items to Basket. You may indicate quantities and add/remove items by viewing your basket now or at check out.