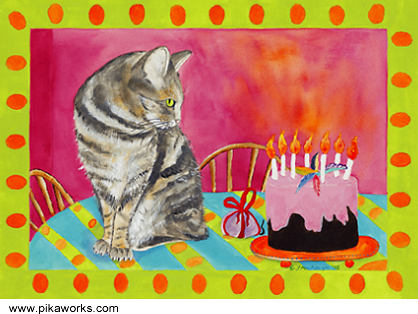 Greeting: Have a luscious birthday.
Words on Back: Pixel has helped at Pika Works since he was a kitten. He guards the cards against mouse invasions, pushes pencils off the desk, and makes everyone laugh. He would love to go searching for pikas in the mountains. That is not a good idea. If Pixel saw a pika, he would want to chase it.
Pika Works is named after the delightful but obscure little mammal, the pika, who lives high in the mountains of western North America. Pikas are related to rabbits and are about the size of large hamsters. They have rounded ears, luxurious whiskers and no visible tails. It is no wonder that Pixel would want to catch one..
About Prints: Unframed print is attached to foam board with tag on back for quick hanging. Print may be easily detached from backing and framed as you wish ($30). .
To Order: Check next to the product(s) you would like to order and click Add Items to Basket. You may indicate quantities and add/remove items by viewing your basket now or at check out.