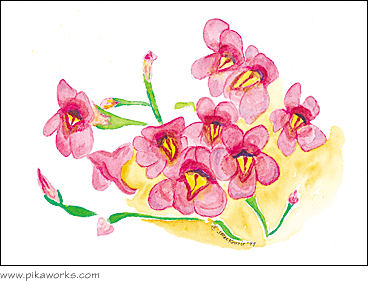 Greeting: Thanks a bunch!
Words on Back: Pikas are hearty little mammals who live in rock piles high in the mountains of western North America. They have relatives in Asia too. Pikas live in some of the most beautiful and rugged places on earth. Wildflowers are abundant for a brief season. Many of the flowers are relatives of the beauties in our own back yards.
Monkeyflowers are beautiful no matter which of many kinds you encounter. The ones depicted are Lewis' Monkeyflowers (Mimulus lewisii) of the Figwort Family. They flourish in pika country.
To Order: Check next to the product(s) you would like to order and click Add Items to Basket. You may indicate quantities and add/remove items by viewing your basket now or at check out.