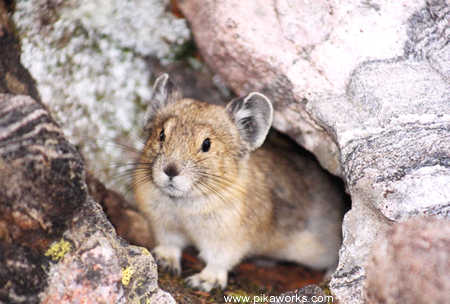 No greeting.
Words on Back: Pamela lives near the bottom of Mount of the Holy Cross, just up the trail from East Cross Creek. I found her in the evening. She came out of her hole, ran into her hole, came out again, went in again and then watched me quietly from under the rock ledge. I stopped to see her again the next day. - Joan MacKenzie, August 2001
About Photos: The photos are 5 x 7 inches. They are available unframed for $20 or matted and framed in an 8 x 10 inch metal frame for $40.00. Description of the pika is included. No words appear on photo. Special requests accepted. Pamela is also available as a magnet for $3 and in a pack with 3 other pikas for $10.
To Order: Check next to the product(s) you would like to order and click Add Items to Basket. You may indicate quantities and add/remove items by viewing your basket now or at check out.